A lot has been happening around the world in terms of the pandemic. This has created the need to work from home. But, can your home be the perfect working space, and can it be productive?
You will need to create a conducive home office that will allow you to finish all your tasks on time. So, just how do you make sure that you create a productive atmosphere, and how do you know the right size for your home office?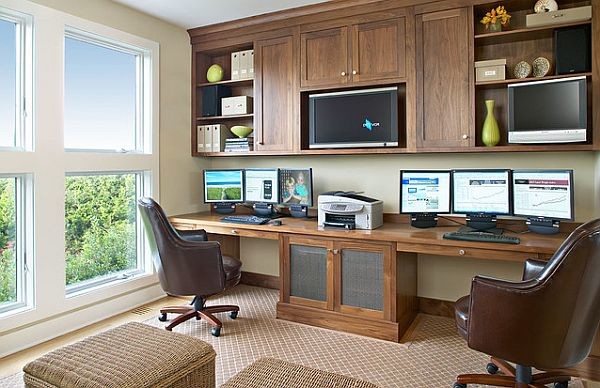 Below, we show you how to create the perfect office space for yourself. Take these notes for a productive home office.
1. Consider Your Working Style When Choosing A Location
First and foremost, you will need to consider the location of your home office. In doing that, make sure you put into account the nature of your work, your working style, as well as the people around you.
We suggest that you go for a garage conversion, garden office room, or a loft conversion if your work requires some privacy and quiet.
However, you will need to consider a space close to the sitting room or the kitchen, if you will need to constantly check up on the kids or run a small business from home.
2. Consider The Things You Will Need In Your Office
There are so many things that you should consider before you design your home office. In fact, you should consider the following:
Does your job require you to have a desktop? If so, how much desktop space will you need?
Will you need to print out some files? If so, do you have space for a printer?
Are you going to need to use a telephone?
Will you require a library of books?
Does your job require you to have lever arch files, and is there any space for them?
Does your job involve you accessing some files? If so, will lever arch files on a shelf work, or will you need a desk drawer to drop in your files? Or, maybe, you would need a wall shelf to keep your files?
If you require a desk in your office, you will need to check and see if there is enough room. Also, try to figure out how you can run cables to a power point safely. Other things that you have to consider are wallpapers, desk lamps, some units, power points, or a small fridge and a coffee making machine.
If you have just started working remotely, Zaitaku Job Navi offers you some great working from home tips.
3. Buy The Best Desk You Can Afford
Depending on the space that you have designated for your office, you should make sure that you buy the best desk. It will need to be spacious enough in order to accommodate all the equipment that you will need, as well as extra space for your files.
If you can, we suggest that you go for a corner desk, which you can split into two; one side for your paperwork, and the other side for your computer.
Fortunately, you'll be able to find sitting desks that come with wire channels. This helps you to keep your cables neat and tangle-free. If you cannot get that type of desk, then consider placing your desk where you get safe connection to plug sockets.
4. Your Office Chair Should Be Great
When you work, you will need to be very comfortable. Therefore, we suggest that you get a supportive chair.
In this case, a swivel will be really great as it can be easily adjusted according to your height. Also, make sure the chair that you choose matches the overall design of the office.
5. Invest In Home Office Storage
It can be really distracting to have a lot of clutter in your office. Therefore, we suggest that you buy home office storage equipment. Make sure you have shelving, as well as small home office storage accessories. You might also want to consider other office accessories such as scanners, printers, document shredders. These things will definitely help you to keep your office clutter-free.
6. Get The Right Office Lighting
To create the perfect working environment, we suggest that you get the right kind of lighting. First of all, you will need natural light. Because of that, make sure that you position your desk close to the window to get as much natural light as possible. You can then add a lampshade or pendant lighting to add more convenient lighting in your office.